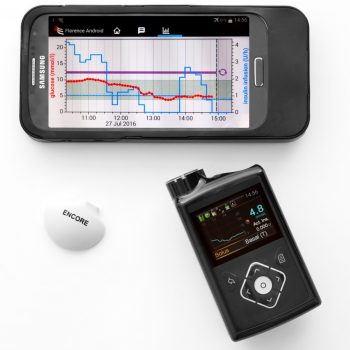 A team at the University of Cambridge and Cambridge University Hospitals NHS Foundation Trust has previously developed an artificial pancreas with the aim of replacing insulin injections for patients living with type 1 diabetes. In research published in Nature Medicine, the team – working with researchers at Bern University Hospital and University of Bern, Switzerland – has shown that the device can be used to support patients living with both type 2 diabetes and kidney failure.
The artificial pancreas is a small, portable medical device designed to carry out the function of a healthy pancreas in controlling blood glucose levels, using digital technology to automate insulin delivery. The system is worn externally on the body, and is made up of three functional components: a glucose sensor, a computer algorithm to calculate the insulin dose, and an insulin pump.
When asked about their experiences of using the artificial pancreas, everyone who responded said they would recommend it to others. Nine out of ten (92%) reported that they spent less time managing their diabetes with the artificial pancreas than during the control period, and similar numbers (87%) were less worried about their blood sugar levels when using it. Other benefits of the artificial pancreas reported by study participants included less need for finger-prick blood sugar checks, less time required to manage their diabetes resulting in more personal time and freedom, and improved peace of mind and reassurance.
The team is currently trialling the artificial pancreas for outpatient use in people living with type 2 diabetes who do not need dialysis and exploring the system in complex medical situations such as perioperative care.
The research was supported by the NIHR Cambridge Biomedical Research Centre, The Novo Nordisk UK Research Foundation, Swiss Society for Endocrinology and Diabetes, and Swiss Diabetes Foundation and Swiss Kidney Foundation.
For more information visit: CUH News
Published August 5 2021