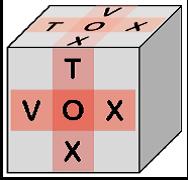 VoxTox
Linking radiation dose at the voxel level with toxicity
Research summary
Radiotherapy (RT) is one of the most potent and cost-effective curative treatments for cancer. In the United Kingdom, about 300,000 new cancer cases occur each year. Around 50% of patients require radiotherapy at some time in their illness, and 60% are treated with curative intent. There is, therefore, a large potential benefit from both improvements in tumour control and reduction in toxicity. Current RT dose escalation strategies are based on static models of the patient anatomy, and do not take into account variation in patient position, and shape and location of mobile internal organs. Uncertainty in the dose actually delivered to normal tissues is recognised as a limitation in radiotherapy at the present time.
This is an observational cohort study. The aim of the Programme is to collect and archive clinical toxicity and optimised imaging data for patients undergoing image-guided intensity-modulated radiotherapy to the head and neck, prostate, and central nervous system (CNS). The VoxTox Programme is bringing together a cross-disciplinary group of clinicians and clinically-orientated scientists in Cambridge to test the hypothesis that: "A better understanding of the dose received and the fate of normal tissues receiving RT will facilitate lower toxicity, and contribute to higher cancer cure rates". This will be achieved by implementing more sophisticated models of delivered dose than have previously been possible in clinical practice, thus linking dose at the voxel level with toxicity (VoxTox).
---
Main inclusion criteria
Aged >18 years

Malignant or benign tumour of the head and neck, prostate or CNS within the past 5 years

Already treated with, or suitable for treatment with, radical RT with daily image guidance using TomoTherapy or equivalent technology

Suitable for the planned 5 year follow up schedule

Written informed consent

For CNS patients, the RT target must include part of the cranium. This includes patients with gliomas, pituitary tumours, skull base tumours, and those requiring cranio-spinal axis RT.
Main exclusion criteria
Previous RT to the area being treated

RT treatment other than with daily image guidance using TomoTherapy or equivalent technology

CNS tumours without the cranium being part of the RT target
---
---
Chief investigator
Contact details