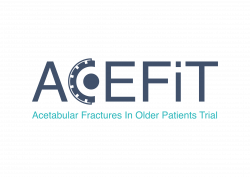 AceFIT
Acetabular Fractures in older patients Intervention Trial.
Research summary
Acetabular fractures occur in a similar patient population to that of hip fracture patients. They also have similar co-morbidities such as cognitive impairment and osteoporosis. NICE guidelines for the management of hip fractures state that interventions should be undertaken with the aim of facilitating early mobilisation to optimise recovery and clinical outcomes. Despite the similarity to the hip fracture population, current treatment principles for acetabular fractures however are very different to those of hip fractures. There is no guidance in place for acetabular fractures with minimal evidence available to inform best practice. Surgeons worldwide are uncertain how best to treat these fracture with significant variance in treatment occurring between different institutions who treat these injuries.
Currently, there are two main options available; nonsurgical treatment and surgical treatment. Non-surgical (NST) treatment involves the patient keeping the weight off the affected leg until the fracture has healed. This often means patients are immobile for a prolonged period, have prolonged rehabilitation and exhibit difficulty returning to their pre-injury level of function and independence. Furthermore, as the hip joint anatomy has not been restored patients may also have compromised function and quality of life in the long term.
Surgical treatment involves surgical fixation (SF) using a plate and screws to hold the fractured pieces of bone in the correct position until the fractures has healed. This has the advantage of restoring the hip joint anatomy and is commonly used in younger patients. However as the bone is generally of poor quality in older patient groups due to osteoporosis, accurate reconstruction of the hip joint is challenging. Consequently, this method of surgical treatment has a much poorer outcome in older patients than in younger patients. Furthermore, this surgical fixation means that these patients are not permitted to bear weight on the affected leg until the fracture has healed. This may mean a period of non-weight bearing on the affected limb for up to three months post fracture. As older patients who sustain acetabular fractures have similar demographic characteristics and comorbidities to hip fracture patients and are likely to suffer the same complications if they undergo a period of prolonged immobilisation, it may be appropriate to adopt the NICE hip fracture management philosophy for acetabular fractures in older patients and aim for early mobilisation.
With this in mind, a third method of treatment for acetabular fractures in older patients is gaining popularity in some centres and involves replacing the hip joint at the time of fixation of the fracture (SF+HR). This has the advantage of allowing patients to weight bear immediately which would bring care in line with NICE guidelines for the management of hip fractures. This may enable patients to regain function earlier and consequently have a shorter hospital stay and possibly a quicker return to their usual place of residence5. The downside to SF+HR is longer surgery, increased blood loss and the risks of hip dislocation, early failure of the hip replacement and increased initial cost of treatment.
Deciding which of these treatment options will give the best outcome is often difficult with no clear evidence or guidelines. The problem being addressed is which of three treatments is best for older patients sustaining an acetabular fracture – non-surgical treatment (NST), surgical fixation (SF) or surgical fixation combined with hip replacement (SF+HR). An adequately powered randomised controlled trial is required to determine which is the optimal treatment. However, there are several potential difficulties with implementing such a trial. The aim of this study is to assess the feasibility of performing a larger scale trial and if found to be feasible then we will seek support to undertake a full scale randomised clinical trial.
---
Main inclusion criteria
Male or female aged 60 years or over, including those with cognitive impairment, who have sustained a displaced acetabular fracture where the treating surgeon considers it to be sufficiently displaced to consider surgery (fractures involving displacement of either anterior column, posterior column or quadrilateral plate, posterior wall with marginal impaction).

Informed consent to participate from the patient, or agreement from a personal or nominated consultee (in the case of patients who are lacking capacity to consent).

Informed consent to participate has been obtained from the patient, or agreement from a personal or nominated consultee (in the case of patient who are lacking capacity to consent)
Main exclusion criteria
Open fractures

Contra-indication to anaesthesia

Patient has a total/partial hip replacement in situ (same side as acetabular fracture )

Pre-injury the patient was immobile (i.e. confined to a bed or chair)

Polytrauma (patient has significant other injuries likely to have an impact on rehabilitation e.g. bilateral wrist fractures or proximal humerus fracture)
---
---
Chief investigator
Contact details
Clinical Trials Manager: Dr Paula Kareclas
Telephone: 01223 596473 | Email:[email protected]