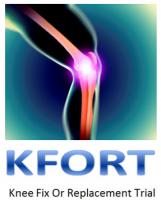 KFORT
Knee Fix or Replacement Trial
Research summary
Despite potential surgical advances in the management of distal femur fractures (DFF), the optimum management in elderly patients remains unclear. These injuries are challenging to manage – the fracture is often in multiple fragments and further complicated by poor quality osteoporotic bone. Open reduction and internal fixation is the current standard surgical management for this injury. However, achieving a satisfactory fixation to enable early weight-bearing is difficult. Elderly patients, especially those who are frail and cognitively impaired, are unable to adhere to these weight-bearing restrictions.
Limited research exploring treatment options for DFF in the elderly has been performed and treating elderly patients who have sustained a DFF is challenging. This is a vulnerable patient group; pre-existing medical complications are common and a recent study of elderly patients with similar fractures found that approximately 30% have cognitive impairments such as dementia. The problem being addressed, by this study, is which method of treatment is best for elderly patients sustaining a DFF - fixation or replacement. A large scale randomised controlled trial is required to compare these two interventions definitively and to provide much needed evidence to determine the optimum management of elderly patients sustaining a DFF. However, there are several potential difficulties with implementing such a trial. Our aim is to assess the feasibility of performing a larger scale trial and if found to be feasible then we will seek support to undertake a full-scale clinical trial.
This is a randomised controlled prospective study, to assess the feasibility of performing a full-scale prospective randomised control trial comparing fixation vs. distal femoral replacement (DFR) for elderly patients sustaining a DFF. A feasibility randomised controlled trial is required to inform the design and the sample size calculation for a larger trial - specifically to understand how the characteristics of the target population (elderly, high incidence of cognitive impairment and medical comorbidities) will affect the study process and documentation. We wish to ensure that patient recruitment, follow up and data collection is practical and will provide appropriate outcome data to inform a sample size calculation for a definitive trial. If this study establishes that a larger study is feasible, then we will seek support to undertake a full prospective randomised controlled trial.
This is a multicentre study, taking place initially in 7 UK sites. The number of sites may be increased in order to reach the target patient numbers within the study timelines. Participant Identification Centres (PICs) will also be used to help recruit patients into the study. Potential eligible patients identified via PICs will be transferred to Addenbrooke's Hospital for their surgery and subsequent care and follow up procedures. Patients diagnosed with DFF and fulfilling the inclusion/exclusion criteria will be recruited to the study. We plan to randomise 46 subjects in this trial. Following randomisation, patients will be followed up for trial purposes for a total of 9 months. A full break down of screening through to follow-up can be found in Section 2 -Study Flow Chart.
---
Main inclusion criteria
A patient will be eligible for inclusion in this trial only if all of the following criteria apply:
Male or female aged 65 years or over, including those with cognitive impairment.
Informed consent to participate from the patient, or agreement from a personal or nominated consultee (in the case of patients who are lacking capacity to consent).
Patient is considered suitable for DFR.
Patient is able to complete trial procedures.
Main exclusion criteria
The presence of any of the following will preclude patient inclusion:
The fracture is open.
Previous ipsilateral (same side as fracture) knee replacement.
Patient is unfit for anaesthesia.
---
Funders and sponsors
---
Chief investigator
Contact details
Clinical Trials Manager: Dr Paula Kareclas
Telephone: 01223 596473 | Email: [email protected]