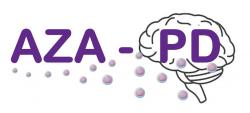 AZA-PD
Azathioprine immunosuppression and disease modification in Parkinson's disease (AZA-PD): a randomised double-blind placebo-controlled phase II trial
Research summary
Immune activation is strongly implicated in a number of neurodegenerative diseases, including Parkinson's disease (PD) and related Parkinson-Plus disorders. Our own work has demonstrated not only that there is a genetic link between the immune system and PD risk, but also a more active immune response with raised inflammatory markers in the blood being associated with more rapid progression of the disease. 
This study will test the hypothesis that suppressing the peripheral immune response in PD with azathioprine is an effective disease-modifying strategy. This may ultimately lead to the clinical adoption of a highly cost effective therapy to delay disability and prevent progression to the some of the most feared complications of PD including severe balance problems and dementia, for which we currently have no effective treatments. This therapeutic strategy may also be beneficial for other Parkinson–Plus disorders which share common disease mechanisms.
---
Main inclusion criteria
Capable of giving signed informed consent
Aged over 50 years
Be a fluent English speaker
Diagnosis of PD according to UKPDS Brain Bank Criteria, though a positive family history of PD will not be used to exclude participants
Disease duration of <3 years
Probability of poor outcome (postural instability/dementia/death) at 5 years from diagnosis ≥50%
Have adequate organ and marrow function, as defined below (measured within 42 days of first dose of trial medication):
                  o Haemoglobin ≥ 110 g/L
                  o Platelet count ≥ 130 x 109/L
                  o Neutrophil count ≥ 1.5 x 109/L
                  o Renal Function- creatinine clearance ≥50mL/min.
                  o Hepatic function- ALT and bilirubin ≤2 times the institutional ULN
Main exclusion criteria
Use of prescribed immunomodulatory or anti-inflammatory drugs (see section 9.2 for full details)
Known inflammatory or autoimmune disease, or chronic or latent infection
Active infection requiring the use of parenteral antimicrobial agents within 2 months prior to the first dose of trial treatment
Skin or solid organ malignancy within the 5 years prior to the screening assessment
The inability to take or swallow oral medication
Parkinson's Disease Dementia according to MDS PD Dementia criteria
Positive test for HIV or hepatitis
TPMT deficiency
Lack of immunity to VZV
Negative EBV IgG
Chronic liver disease
Renal impairment - creatinine clearance <50mL/min
Current or previous haematological malignancy
Concomitant allopurinol
Any concurrent medical or psychiatric condition or disease that is likely to interfere with the trial procedures or results, or that in the opinion of the investigator, would constitute a hazard for participating in this trial
Receipt of live, attenuated vaccine within the 30 days prior to the screening assessment
Women of childbearing potential. Female patients must be surgically sterile or be postmenopausal.
Male patients must be surgically sterile or must agree to use effective contraception during the period of therapy and for 6 months after the last dose of the trial treatment
Known hypersensitivity to azathioprine or its excipients
Received an investigational drug or used an invasive investigational medical device within 4 weeks before the screening assessment or is currently enrolled in an interventional investigational trial
---
Funders and sponsors
---
Chief investigator
Dr Caroline H. Williams-Gray
Contact details
Clinical Trial Coordinator: Sonakshi Kadyan
Telephone: 01223 349007 | Email: sonakshi.kadyan@addenbrookes.nhs.uk